Lagos Gubernatorial Election And Sanwo Olu's action has been screaming desperately. One would have thought the governor of Lagos was inaccessible and his post wasn't in service to the people. Over the past four years of Sanwo Olu's reign, he has comfortably hidden under the wigs of his Godfather Tinubu. Lagosians have been asking where their governor was over the past nine months. No, he's not in Alausa, he's waving a broom on the top of a trailer across the six geopolitical zones.
Within the last year of his 4 years tenure, he has spent time abandoning his office at Alausa to escort presidential candidate, again his Godfather Tinubu on his quest to get citizens to vote him into power. Now it gets funnier because Mr. Sanwo too is vying to return for a second tenure as Lagos state governor and he didn't bother campaigning but he had all the time to go host the headies in far away Atlanta, USA. An event held annually in his backyard, that he never showed up for. This man didn't even honor any governorship debate with other candidates.
Now, why do you think he didn't bother to campaign or focus on his race? Yes, you got that right. He thought his return to power is secured. But it's no longer business as usual considering how Labour Party on the Obidient movement cleared Lagos in the presidential race. The way Mr. Governor has suddenly picked up the mantle to campaign just a week before the governorship election, which is now two weeks as INEC postponed by a week makes us wonder if the result of LP's win is of close margin as announced or if it was a landslide.
The current action of Sanwo Olu gives off desperate, a long strand of panic and a show of "Oga has dusted his hands off your case". Tinubu already has a battle waiting for him in court by the Ellu P squad. Over the past couple of days, his strategic media and planning team have been working over time and we can tell. Even a blind Bartimaeus is familiar with his game. A week more to go, we wake up with the thought of what has Sanwo Olu got for us on the internet today. Meanwhile, the tactics of eating roasted corn or akara by the roadside have outlived its duration. Mr governor has since moved from TV to Ice creams in malls. In just a week, Mr. Sanwo and his party crew have done the following ;
Unban Okada Ban
A campaign based on pushing tribal wars and bigotry
Release Unpaid Pensions and Gratuity
All impounded vehicles have been released to their owners for free. Remember how he had them auctioned to the highest bidders, and videos of owners begging and crying surfaced on the internet?
Ordered LASTMA operatives to cease arrests and stand down.
He toured Churches, he was even present at two churches on the same day. Lagos traffic is only but a mindset for him.
Had campaign project him as the youth choice
Ice Cream Man
Zikoko did a four-year report card of his tenure.
You can chat with your governor on WhatsApp now (FirstBank nor do pass like this)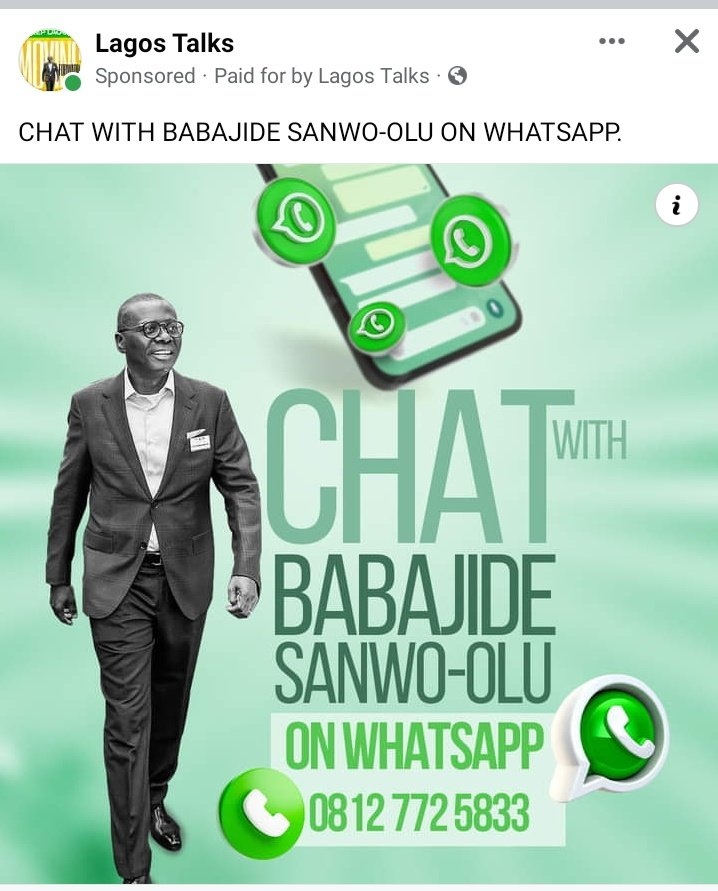 He had his team roll out a bunch of tweets to gaslight the events of EndSARS and the tragedy that happened at the tollgate on his order. You see several tweets and comments that say – " Aside EndSARS, Sanwo Olu is……". Nevertheless, Posterity will judge us all. To this day, we are still asking who gave the order.
Gone on air to say his own means of women empowerment and gender inclusion is having women in his pictures to support International women's day. Sanwo Olu, the women activist leader of our time.,.
Lagos Gubernatorial Election And Sanwo
The list goes on and on and tightens your seat belts and prepare for the wonders his team got for us.
Nigerian politicians know what is right but they choose not to, this is a clear case. Clearly, whether right or wrong choices, they would only act right when it's beneficial to them. Moreover, they are forgetful that their office is in service to the people and not their pocket.
Check out women creatives breaking barriers in the industry here.