Hilda Baci Cook-a-thon To Set A New Guinness World Record and we are cheering.
Hilda Baci just clocked day 1 of the Cock-a-thon currently held at Amore Gardens, Lekki. It's set to run from the 11th -14th of May. The content creator, producer, and chef is on a mission to break a Guinness world record currently held by Lata Tondon for the world's longest cooking marathon, she spent 87 hours, 45 minutes, and 00 seconds (3 Days 15 hours and 45 minutes) cooking in Rewa, India, in 2019. If Hilda is successful in the next coming days she would be the holder of the record.
The journey to the cook-a-thon started five years ago. It is one of my biggest aspirations and I am glad that I took the bold step to embark on this adventure. I have taken time to prepare for this psychologically and I am proud to finally take on this challenge.

The cook-a-thon is also an opportunity to tell some of the positive stories that come from Africa through the meals that we make.

This attempt is also proof of the strength young people can exhibit with the right platform and support. I look forward to receiving support from people across the world to achieve this feat.

Hilda Baci
Join in the conversation online and if you're in Lagos do drop by, give some cheers to the amazing team doing the work to ensure she breaks this record. And eat free food, we know nothing Nigerians love more than free food, free music, free aesthetics, and a place to dress up.
Here are some pictures from Day 1 of the Cook-a-thon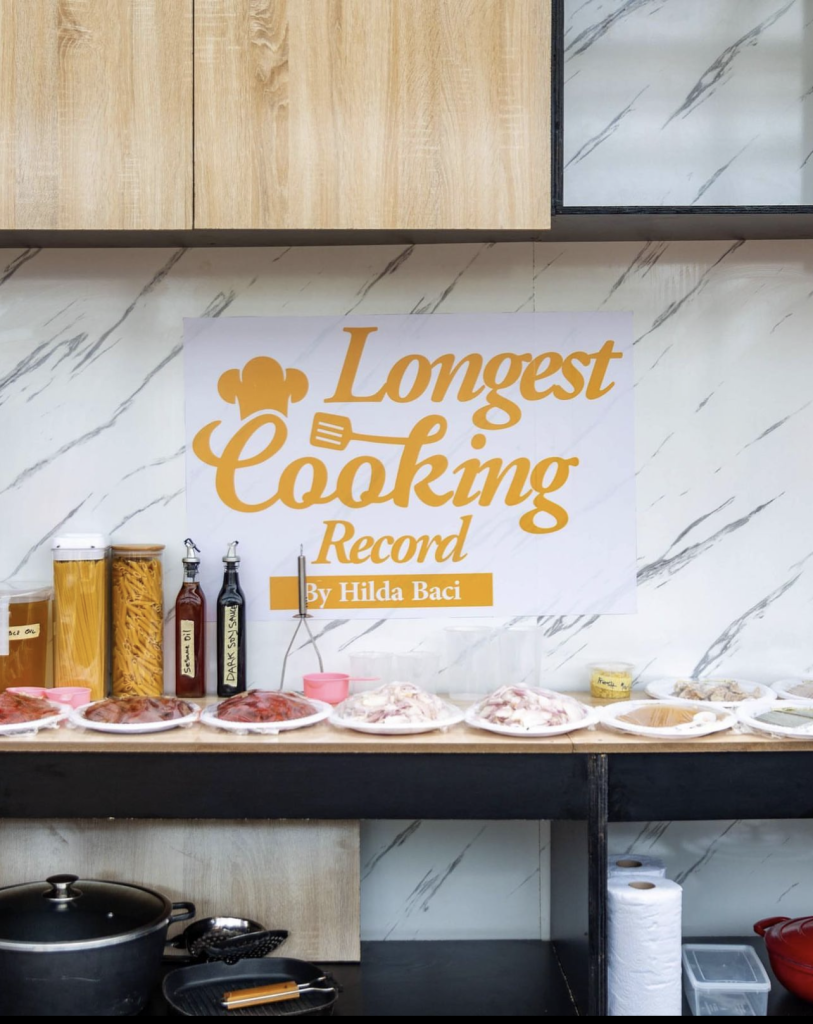 About Hilda and Hilda Baci Cook-a-thon To Set A New Guinness World Record
A graduate of Sociology from Madonna University, Okija, Anambra State, and in a quest to explore her passion and influences, Hilda Baci ventured into catering. A career solely influenced by her mother's culinary techniques. As a student, she established My Food with her brother and went on further to TV. Her first show was "In my Kitchen", on Rave TV's breakfast show, Morning Rave. Additionally, she hosted "Dine on A Budget" on Pop Central TV, where she conversed with celebrities on current issues while providing them with an enjoyable dining experience. Over the years, she had eyes on the business side of the culinary industry and ensured to acquire knowledge as a lunch division manager for a breakfast company.
It might seem as though all creatives have stories to share during the lockdown as Hilda is no exception. She started My Food by Hilda, delivering meals and taking orders around Lagos from her apartment at Ikate in 2020.
Before the D-DAY
Prior to the start of the cock-a-thon, she successfully held a 24-hour dry run from April 12- 13. Partnering with a fitness trainer and nutritionist to lose over 20kg and adjusting her diet, Hilda and her team have designed over 100 recipes to be served at the event, which would be open to the public through registration.
Visit Marrakech ? Here