Travel Marrakech With Blackdotmandy, call me your travel influencer for this moment because a time was had in Morocco
Back from the long hiatus and apologies for the long silence…… Going forward we (Amanda and my one amazing writer @somtoSomto) promise to do better.
As some of you know or don't know, I ( Amanda) recently got back from Vacay, oh yes *flips braids**** and it was North of Africa, a red city in Morocco the beautiful Marrakech. But you already knew that from the title of the blog post. I've been to red cities and they both come with the experience.
I went from the UK and got my E-visa within two days of applying for £60 via the Ministry of Foreign Affairs of Morrocco here and then I booked my return tickets via Ryan Air for £150 because I booked late. My friends booked theirs super early for half my price and that money would have done a whole good for the activities in Marrakech. My journey to Marrakech was quite eventful I even made a vlog on my Instagram.
For first-time travelers, I have suffered so you don't have to. Lol here's a list of things to do arriving at the airport.
Get a sim and a data plan. Saves you a lot of stress
Convert your money to Dirhams at the airport in Marrakech, the rates are usually better there than outside Morrocco
Get a local guy within the city who can converse in English just for the first day before you settle in.
If your accommodation isn't meal inclusive, download Glovo for food and groceries.
It's usually hot so stay hydrated and take a bottle of water when you're out.
Check the weather forecast for each day and set your wardrobe based on the conditions.
The locals are very welcoming and most times do not want cameras all up in their faces.
The official languages are Arabic, French, Moroccan Berbers, Spanish
Yes, you're Johnny Just Come and taxis might want to extort you, charging higher than usual, get your negotiator's coat. If you're told 1000 dirhams for a ride, divide that by 5. You're welcome.
Now for our apartments in Morocco, note that it was a group trip and we were a whole lot, which means a bigger accommodation and we made our bookings via |Booking.com. For couple trips and solo trips I'd recommend you book a Riad for the whole experience, beautiful Maroc designs and aesthetics within the city, and here's a list of some Riads to check out.
While most tourists plan to enjoy the aesthetic feel of the city from the Palais Bahia to Majorelle Garden to riding a Ferrari for a hundred pounds to the sick nightlife, I and my friends decided to feel the locals **In Fk Abudu's voice*** . We went mountain climbing for two days in a roll with several cases of 'father Bernard' although the ROI was definitely worth it. I even got a local Berbers jacket on, my tiny thighs are yet to recover and I'm sad to say that leg day at the gym shouldn't be expecting this gym rat for the whole of May. Nevertheless, a time was had !!!
Some of the activities on my itinerary are :
Ouzoud Waterfalls Guided Day Trip with Boat Ride
Full Day Desert And Mountain Tour With Camel Ride
Half-Day Historical And Cultural Tour
Marrakech Monuments and Souks 3 Hour Tour
Quad Bike Experience: Desert and Palmeraie
Ourika Valley and Atlas Mountains Day Tour
I made all of the bookings for these activities via Get Your Guide ranging from £14 to £25 for each. Check out my quad bike vlog on IG
You can check out some deals for flights and accommodation via Skyscanner.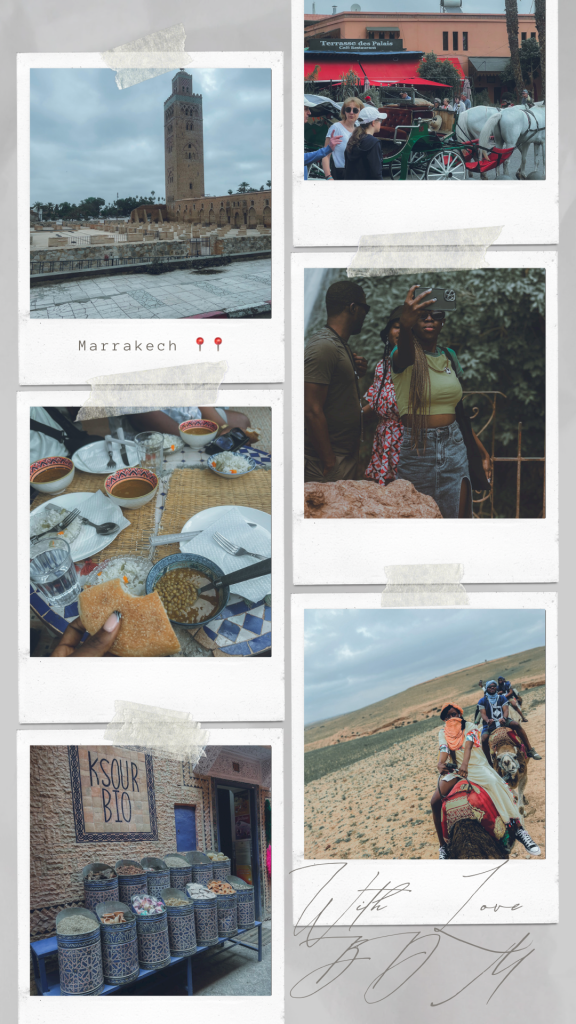 Travel Marrakech With Blackdotmand and Traveling from Nigeria?
There are some amazing travel plans from travel agencies ranging from a total cost of 1.3 million to 1.5 million Naira depending on single or shared accommodation. Check out this info here and here are some essentials from Visalist if you're visiting Marrakech from Nigeria
Make sure Nigeria's passport has at least six months of validity remaining from the date of entry to Morocco.
Always carry your Nigeria passport, visa, and other important travel documents with you while in Morocco.
Check the entry and exit requirements for Morocco, including any COVID-19 restrictions or quarantine requirements.
Make sure to have enough funds to support your trip to Morocco and show proof of financial capability if requested.
Purchase travel insurance that covers medical expenses, accidents, and trip cancellations or interruptions in Morocco.
Book accommodations in advance to avoid the hassle of finding a place to stay upon arrival in Morocco.
Research the weather conditions in Morocco and pack appropriate clothing and gear for your trip aware of scams and tourist traps, especially when dealing with street vendors or taxi drivers in Morocco.
Consider using a prepaid SIM card or eSIM to stay connected during your trip to Morocco.
Respect the local culture and traditions, and dress appropriately when visiting temples or religious sites in Morocco.
Be mindful of your health and hygiene, especially when trying street food or visiting crowded areas in Morocco. (Source: https://visalist.io/morocco/visa-requirements/nigeria )
Before you make that trip here are some essentials, to make the most fun of your trip.