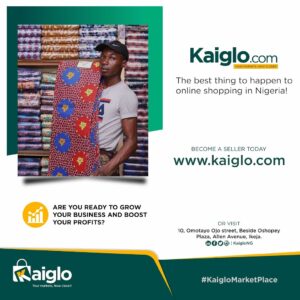 Kaiglo – The Online Marketplace
Have you ever bought or sold anything online? If yes, then you are one of the 750, 000 individuals who use the internet for e-commerce or online shopping in Nigeria.
Nigeria's embrace of e-commerce can be attributed to a growing middle-class who are more discerning and willing to try out new technologies and are exposed to global influences.
Despite the convenience that shopping online promises and delivers, shoppers cherish the opportunity of buying from their favorite shops and stores as they are afforded the unique opportunity to haggle to get wallet-friendly prices.
Now imagine for a second the possibility of being able to buy that much loved Denim Jeans from a store owner in Onitsha Main Market all from the comfort of your home, or being able to order that beautiful, locally crafted handbag from Iya Segun store in Bodija Market Ibadan and have it delivered to your office in Wuse Abuja.
Are all these possible?
Enters Kaiglo…
Kaiglo, a soon to launch ecommerce company is a unique online platform that brings several retail and wholesale fashion dealers from various markets in different locations across Nigeria to trade with ease and convenience.
Countless benefits await savvy SMEs who register their store or business brand on our online platform and consumers who buy their products online. Some of the awesome features and benefits of using Kaiglo and why it should be your number one go-to online market platform includes:
Efficient Delivery Network
Kaiglo only sees through the purchasing process between sellers and buyers, but orders gets delivered to the buyer without Kaiglo actually handling the physical product as we have several registered delivery service agents all networked into a single system to see through an effective and convenient means of order delivery. This business model helps reduces the risk that might be encountered during shipping of an order, it quickens delivery time, and it is cost effective.
Store Hyperlink Sharing
Kaiglo allows its sellers share their store unique hyperlink or the URL generated when their store was created on various media advertisement channels. As a seller, you can even share the hyperlink of a particular product available for sale on their social media handles (Facebook, Twitter, Instagram etc.)
Personalized Customer Interaction
Kaiglo seeks to improve customers experience when they buy on our online platform that is why we found a great way to personalize customers' interaction with sellers by implementing a cool social-friendly chat interface for its users. In other words, you can get familiar with a seller or buyer to ease the process of trading. It's a well-known fact that personalization is imperative for the success of business today.
Growing Local Brands
Kaiglo also looks to engage small and medium scale enterprises to help them in getting that global recognition and attaining international status. We look to achieve this is by helping young fashion entrepreneurs and startups across local communities in the country grow into a global business brand. We have them join our platform where our businesses can network to improve each other's business services to its trusted clients and the international market at large.
Smart business people who are eager to grow their business exponentially are seizing this great opportunity that Kaiglo is offering. Log on to: www.Kaiglo.com and follow the instructions to become an active user today. Get the opportunity to meet thousands of buyers and sellers. Indeed Kaiglo is making Your Markets, Now Closer.
For more information and inquiries; Like or Follow our social media pages on Facebook, Twitter and Instagram: @KaigloNG
You can also call our Hot-line on: 01-4537099 or WhatsApp: 07016952664